Meet Dr. Danielle Anderson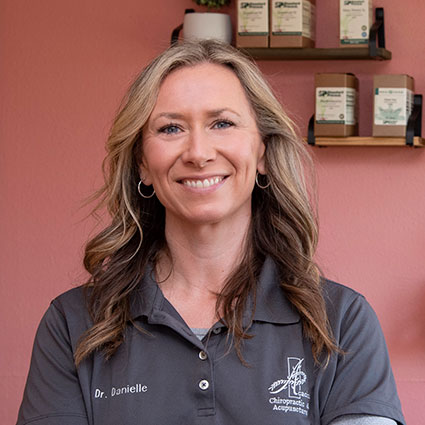 Helping Others
A native of Boone County, Dr. Danielle Anderson began suffering from debilitating headaches in high school. She saw countless medical doctors, including specialists like neurologists, and no one could help her. Finally, she tried chiropractic care—and it worked! From that moment on, she knew that she wanted to become a chiropractor and help others the way she had been helped.
She attended Northern Illinois University, where she earned her bachelor's degree in biology. Then she went on to National University of Health Sciences in Lombard, Illinois, graduating with her Doctor of Chiropractic degree and completing post graduate certifications in acupuncture and facial rejuvenation acupuncture.
EXPLORE OUR SERVICES

Animal Chiropractic
Dr. Anderson's family is active in Arabian horse breeding, and she is passionate about helping animals and humans. She furthered her education at Healing Oasis Wellness Center, where she completed a nationally accredited and state-approved certification program in Veterinary Spinal Manipulative Therapy (Animal Chiropractic).
She offers in-office care for small animals (family pets like cats and dogs), and she makes farm calls to provide care for horses.
Serving Her Community
Coming back home to Boone County was always Dr. Anderson's plan. After graduating from chiropractic college, she opened Acacia Chiropractic & Acupuncture P.C. in 2009, She hopes to help people in Belvidere and Rockford discover how to live healthier lives through holistic health care.
Dr. Anderson loves helping people and providing the education they need to take control of their own wellness—not just in the short term, but for a lifetime.
Away From the Office
Her family's horse breeding and showing business keeps Dr. Anderson and her two kids busy. She shows Arabian horses, who she says are the best therapists in the world.
Book Today
Contact us today to schedule an appointment for yourself or your animal!
---
Dr. Danielle Anderson | (815) 519-3686