Cold Laser Therapy at
Acacia Chiropractic & Acupuncture P.C.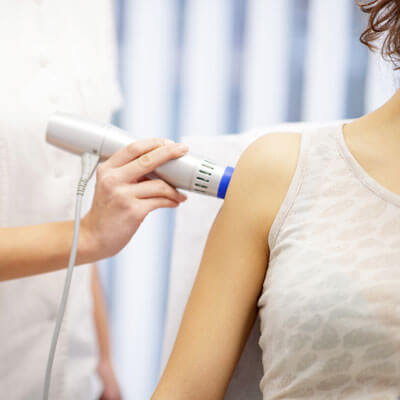 At Acacia Chiropractic & Acupuncture P.C., we offer a whole-person approach to helping our patients get out of pain and back to doing the things they love. Our comprehensive services include cold laser therapy, which can be beneficial for both acute and chronic pain conditions.
NEW PATIENTS

What Is It?
Cold laser therapy (also sometimes referred to as low-level light therapy) uses specific frequencies of red and near-infrared light to speed healing. The injured tissues absorb the light, where it triggers a reaction in the mitochondria of the cells. This stimulates the body's own healing response, which leads to increased blood flow and oxygenation, as well as removal of toxins from the tissues.
It's called "cold" laser because the device itself doesn't produce heat the way other types of lasers can. However, you'll probably feel warmth in the targeted area—this comes from the increased blood flow to that region.
Who Is It For?
Dr. Anderson may recommend laser therapy for acute injuries, including sprains and strains, chronic conditions like tendinitis, and even wounds that don't heal. If she thinks this service can help you, Dr. Anderson will explain what's involved and how it may help, along with the cost.
What to Expect
Each laser session lasts from 5-15 minutes, depending on the area being worked on. This safe, non-invasive therapy is completely painless and relaxing. We typically recommend a series of 5-6 sessions for maximum results. However, patients typically begin feeling improvement after just one session.
Low level light therapy is an excellent adjunct to our other services. While chiropractic adjustments help restore proper movement to joints that have been "stuck," the laser can help the associated soft tissues heal, so the joint doesn't immediately become restricted again.
Book Today
Contact us today to learn more about our comprehensive approach to care, or to book your initial consultation!
CONTACT US
---
Cold Laser Therapy Belvidere IL | (815) 519-3686